How to Kill Creativity
Most organizations claim they value creative, innovative people; yet many operate in ways guaranteed to limit, block or destroy whatever creativity their people have. The culprit is the fashionable, hard-driving, "results are all that matters" style of leadership. Here's how—and why—it happens.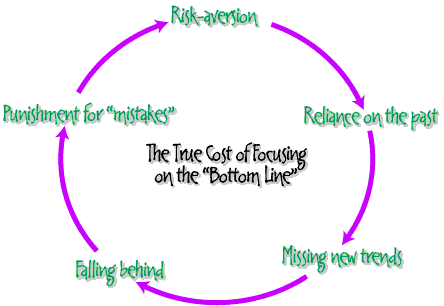 Sara is head of department. Like all the other department heads, she's had to cut staffing levels, reduce costs every year and still meet increased performance targets. It's a large, busy department and her people, she knows, are tired, disheartened, over-stretched and close to burnout. At least three of the best performers, to her knowledge, are actively looking for jobs elsewhere. Now she's hearing rumors her department's function might be next on the list for outsourcing. She's harassed, constantly busy (at her desk before 7:30 a.m.—rarely leaves before 8:00 p.m.) and still desperate to justify her reputation as a high achiever.
One of her subordinates wants her to authorize a risky, though undeniably creative, change of direction that might make billions—or turn out to be an expensive, time-wasting, crazy flop. What will Sara do?
Here's the most likely outcome. Like many managers in such a position, Sara hasn't the time or energy to evaluate the idea fully; she's already running behind and there are ten more immediate problems on her current to-do list. She listens with less than half her attention, notes the risk and jumps right to what have become the key questions: "How does this solve our current problems? What's the payoff? How much by when?" When the answer is this is a long-term project, with a huge potential but little in the way of quick returns (or immediate relevance to her to-do list), she kills it. She knows the organization won't support her, especially if anything goes wrong.
When pressure's intense, creativity is one of the first casualties. Fear of producing still more work, fear of censure and fear of losing face foster cultures that are risk-averse; together with an attitude that protecting your butt always takes precedence. People become too afraid—or too tired—to do more than stick with what they know and what's worked before. You can say goodbye to any possibility of outdistancing the competition through innovation.
Besides, in today's most typical culture, internal competition is more intense as job cuts proliferate and promotion prospects diminish. No one can
afford
to make mistakes. Mistakes cost results and time; they undermine your credibility; they're noted by those who control promotion, political influence and employment itself. Why risk any of these to back some unproven idea? "Making the numbers" gets you a pat on the back—more or less however you do it.
Time is already in such short supply in companies like that no one dares use any on innovation. They all go instead for the quick, obvious answer; the "done it before a thousand times" answer; the quick-fix. That new idea may be a winner—sometime in the future. But who looks that far ahead, when getting through the rest of today looks uncertain enough? Unless it comes with one of these adjectives attached—instant, quicker, simpler, cheaper, fail-safe—or fits the "get it done and move one" fashionable attitude, dump it right away.
Why do people act this way, when it's such obvious nonsense? Because (a) it seems the safest option, (b) that's what they've been taught to do, (c) that's what they believe the bosses want, and (d) they're too afraid to make any other decision.
Stress, tiredness, fear of risk and constant exposure to unreasonable demands paralyze people's willingness to make decisions—especially risky ones—since anything beyond obvious routine poses a personal risk. That's why managers try to protect themselves with ever more exhaustive analyses, approval procedures, consensus-building meetings, memos, e-mails and all the other time-devouring elements of bureaucratic defensiveness. Of course, long before all that political maneuvering is over, and everyone is sufficiently certain (read armor-plated) to decide, the data is out-of-date, the customers have changed their minds…and any competitive edge is long gone. How many promising ideas are tested and analyzed to death in the name of caution and practicality?
In pressure-based cultures, old ideas are continually re-hashed, new ones tested to destruction, and any spark of innovation drowned in consensus-building. An idea that can't be grasped in under five minutes by executives so distracted they can't recall the next meeting on today's schedule—or what was agreed at the last—is dead meat. There's no time to be wrong, so there's no time to be right either. Stick to what you've done before and get a move on. With such penalties for trying anything new, is it any wonder everyone quickly gets the message that, whatever fine words executives use, innovation isn't wanted or valued?
These high-pressure, "the bottom line is all there is" organizations don't simply shoot themselves in both feet; they use machine guns. Their attitude ensures no new ideas will survive, so they get further and further behind less macho, results-driven competitors. As a result, they must run still faster to stay in business at all; and so have even less tolerance or time for risky, creative ideas. The result is self-induced obsolescence, followed by commercial suicide. Look at the "established" US airlines. When did one of these last produce a fresh idea to counter their new, risky, low-cost competitors? The best they can do is copy them—usually long after whatever they're copying is past its sell-by date.
Slowing down, making time and space for innovation and its inevitable mistakes and false starts, isn't just a better idea. It's
the only idea that works
if you want to be around for the long term.