Umm . . . Which way now?
Taking time to get the message straight isn't an indulgence. It's essential.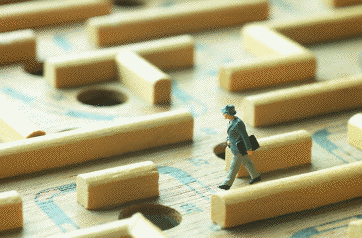 General, later President, Ulysses S. Grant was a fine soldier. He was also a precise and lucid communicator. People said that when Grant issued orders, nobody could have the slightest doubt of exactly what he wanted them to do. Sadly, many leaders lack Grant's clarity in explanation. Throughout Corporate America, people struggle with ambiguous roles, clashing areas of responsibility, muddled instructions, and bosses whose words don't match their intentions, and whose actions don't seem to match either. The result is confusion, frustration, and a tremendous waste of time, money, and organizational resources.
A
ppointing someone to a job is, at its simplest, giving them the instruction to carry out certain tasks and fulfill the associated responsibilities. If this role isn't clearly described—or if the organization's understanding and expectations differ from what the role holder understands (let alone from what has been stated openly—it will be impossible for that person to carry out their job correctly. The same goes for objectives and targets. If these aren't clearly described and understood, the chances of meeting them will be poor. When managers are stressed and harried, their typical response is to give hurried instructions and get on to the next task. And since coming back to clarify or get further informations is often treated as a sign of weakness, stupidity, or plain incompetence, it's no surprise that many people prefer to do the best they can with whatever faulty or incomplete data is available to them.
The language that many of today's managers (especially Hamburger Managers, obsessed with speed, cutting corners, and showing off at the same time) use to explain what they want is very often ambiguous, incomplete, and cluttered with jargon. Maybe they don't know clearly themselves. Maybe they are in too much of a hurry to take the time to work it out, or make sure the other person understands. Maybe they share the foolish assumption that anyone who is competent will be able to work it out for him or herself. Maybe it simply sounds tougher (and is, in reality, so much less demanding) to rap out an instruction and get away before anyone starts asking awkward questions—or suggesting that the target being set is impossible anyway.
People are given instructions and targets that they don't fully understand, don't believe are attainable, or interpret in ways that the boss never expected.
A team I knew once attended a workshop where the organization's senior managers exhorted them to "delight the customer." Sounds good, doesn't it? But what does it mean? The easiest way to delight customers is to give them valuable goods and services for little or nothing in terms of payment. Is that what the top brass intended?
Probably not, but that's more or less how one or two team members understood what they'd been told. Add all kinds of value and charge nothing for it. The customers loved it—until angry bosses demanded to know why these managers were giving the company's profits away. Most of those present interpreted it in the light of the old adage: "The customer is always right." They therefore happily agreed to customer requests and timescales that they knew could not be met, producing angry responses when what they'd promised in the name of "delighting the customer" turned out to disappoint them instead.
These are simple examples, but the problem is widespread. People are given instructions and targets that they don't fully understand, don't believe are attainable, or interpret in ways that the boss never expected.
Anyone can set a wildly challenging set of objectives.
What's needed is for all leaders to take the time to make sure everyone understands what is needed and interprets their tasks in the same way. It's vital that the boss makes his or her expectations clear and unambiguous; and that those who must fulfill them agree that they are feasible within the time-scales set and the resources available. Anyone can set a wildly challenging set of objectives. But if the people who must fulfill them don't believe they are possible, they won't try very hard to make them work.
What would have happened if, instead of being told to "delight the customer," those team members had been given some practical examples, then asked to come up with their own ideas on the best ways to build strong customer relationships and add value to the company's products and service?
Instead of a vague exhortation, open to endless interpretation, they would have been given a clear objective; one that was both feasible and likely to be interesting to work on. They would also have been given the message that the organization respected and valued their ideas, experience, and intelligence. Would they know what to do? Certainly. Would they have been interested and confident enough to do it? I believe that they would. Just about everyone values being respected and taken seriously. And if some lacked the knowledge or skills to produce useful ideas, the gap would be clear right away.
People who experience no respect from those above them give none in return.
Every piece of communication in a hierarchy conveys multiple messages. Not just what to do, what's expected, or who's responsible. How much time and care is spent on making sure the message is correctly understood also gives a powerful signal of how much respect the organization has for the person receiving it. Research has shown many times that the quickest way to induce stress is to put people in a pressure situation and deny them any control over their responses and action. People who experience no respect from those above them give none in return. Those who have no input to the way their work is organized, allocated, and assessed experience growing tfrustration and alienation.
No general can be successful if his orders aren't clearly understood by those who have to carry them out. No leader can produce results with a team that's confused about what she wants them to do. And no organization can operate efficiently if roles are ambiguous, targets are impossible, and the words of the people in charge shrouded in platitudes and jargon.
Clear, respectful communication is a
necessity
, not an option. Taking the time to get it right is more important to corporate success than almost any other action. Those macho, empty-headed leaders who neglect this part of their job in favor of posturing, kissing up to those above, playing office politics, and blaming their staff for every mistake are incompetent jerks who should be fired. They're the type who use catch-phrases like: "We have no room for passengers." That's true . . . only they are the most useless passengers of all.

Labels: civilized work, leadership, management