Why getting away from work regularly is the best way to work better
Relax! Get away from work! You can do it.
Constant, unremitting hard work is a terrible way to solve problems, spark creative ideas, or maintain high morale. Many organizations demand these crazy work patterns only because their ideas on management are stuck at a point many decades in the past. It's time to come up to date and recognize that rest and relaxation are as much essential management tools as motivation or planning.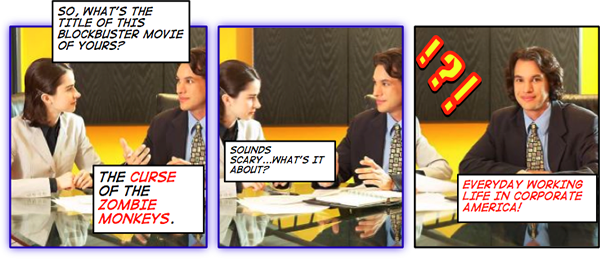 Everyone has been in the situation where you just can't recall something that you know perfectly well: a phone number, a name, a piece of information. You know that it's on the tip of your tongue, but it simply won't come to you. And the harder that you try to remember, the most frustrating it becomes. Do what you may, you cannot recall it. Then, hours later, when you're thinking of something completely different, what you wanted pops into your mind as neatly as you like. It's infuriating.

The same thing happens when you have a difficult problem to solve in the workplace. Trying, again and again, to find a solution is very often
the worst possible way to go about it
. Like that name or telephone number, the answer just won't come, whatever you do.
It would be far better to let go and allow your mind to work on something totally unrelated for a while.
That's what vacations and time spent relaxing and day-dreaming are for: to let your mind refresh itself on a regular basis and clear away the blockages caused by too much effort. The answer that you want is probably right there, only you can't see it for looking. When you get away from the frustration and irritation—right away for long enough to allow your mental muscles to unclench—the chances are that you'll notice the very solution that has been eluding you.
Creative people have always found that their best ideas occur to them at seemingly random moments: in bed, just before falling asleep; in the shower; walking in the park. Sitting and trying to force the mind to produce creative ideas seems to stop up the flow totally.
Antiquated management is everywhere
It's hard to understand why so many organizations and their leaders cling to the crazy notion that you can somehow
force
the best out of people by working them as hard as possible for as long as possible. That might have worked (not too well, but perhaps well enough) in the days when all employees were required to do was either manual labor or repetitive clerical work. Neither require significant mental input. You can happily dig a hole and think about something completely unrelated at the same time. Writing figures into a ledger needs attention, but neither creativity nor any kind of problem-solving ability.
Nearly all of today's work needs people who spend their time solving problems, coming up with fresh ideas, and using their minds far more than their muscles or their ability to cope with repetitive details. It should be blindingly obvious that long hours of hard labor are
not
going to deliver the goods. The fact that organizations and their managers miss this simple fact shows clearly how outdated much of conventional management has become—and how far it has strayed from what will work best in the current context.
Managers obsessed with control, extracting maximum hours, and demanding constant, unremitting effort are shooting themselves in both feet at once. What they get is an exhausted and demoralized workforce, whose brains are so numbed with continual toil that they are no longer able to produce creative ideas—or even recognize and recall the ideas they already have. It's already known that those who pay peanuts get monkeys. If you bludgeon people around the head all the time, you get zombies.
Many organizations afflicted with advanced Hamburger Management get plenty of both—plus a good few zombie monkeys as well!

Labels: burnout, creativity, Hamburger Management, innovation, management attitudes