Thursday, November 30, 2020
The Truth About Communication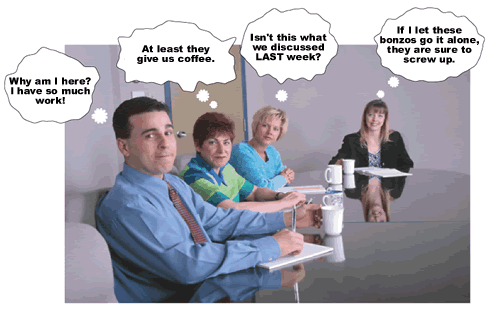 Organizations today are suffering from a plague of pointless and unnecessary communication. People are rushed off their feet because they waste so much time attending meetings, talking on the telephone, or reading e-mails, all in the cause of "better communications." Team working is in danger of becoming as much of a plague as termites—and just as destructive. "Improving communications" is not a panacea for all management ills; often, it's not even relevant to the actual problem. It's time to shut up and let people get on with their jobs.
H

ere's an interesting and provocative post from management consultant Kevan Hall. It starts like this:
Want to give yourself an extra productive day every week without spending any more time at the office? You can do just that—and improve job satisfaction for yourself and others—by cutting out unnecessary teamwork, reducing communication and relaxing central control.
What Kevan is promoting is unabashed management heresy, and I couldn't agree with him more! We don't have too little communication in organizations today, we have
way too much
. Let me put that more clearly. There is far too much communication
of the wrong type
, and not enough of the right kind.
What's the wrong type of communication? The things Kevan writes about. Here are some examples of my own:
Unnecessary teamwork and far too many tedious meetings. Team working has become a plague. Like termites, it's creeping in everywhere and destroying initiative, self-confidence, personal responsibility, and creativity. I'm all in favor of working in a team when it's appropriate: that means only when what needs to be done cannot be accomplished by individuals working independently. Believe me, that's far less than you have been brought up to think. Team working is not the same as working in a coordinated way. Nor is it the same as being co-operative and helpful to others. Neither of those needs a team to happen. In the vast majority of situations, the best way to get something done is to give it to someone and tell them to get on with it. Getting a team together simply slows work up and ensures nobody feels individually responsible.


Teams water down accountability. For some people, teams are great for this very reason. Accountability shared—as widely as possible—usually works out to be no true accountability at all. When things go wrong, nobody is to blame because

everybody

is to blame. Besides, the torrent of finger-pointing that goes on (It was her. No, it was him. I say it was both of them) obscures actual responsibility like a sand storm. There's nothing like safety in numbers.


All the meetings for "co-ordination" and "reporting back" waste so much time that the actual work goes more and more slowly. Then it drops behind schedule and that spawns still more meetings to "monitor progress." If the meetings were thrown where they belong (in the garbage), there would be some actual progress. As Kevan says:

Participants at our online survey tell us that they spend more than a third of their time in meetings—more than half of which they don't really need to be attending at all. This meeting overload ties up something like 20 per cent of all management time—and it achieves almost nothing. A particular favourite is activity reviews where individuals tell you what they did last week. These consume around an hour per week of time for many teams and is [sic] usually of no interest or use to anyone.

"Better communication" is treated as a panacea. Improving communication (as long as it's the right kind) will only help in certain cases: the cases where communication is actually the problem. Elsewhere it's either useless or actively harmful, if it draws attention away from the real cause of the difficulty. But "improving communications" training is a favorite of consultants and trainers precisely because it's so vague and imprecise in meaning or objective that you can never prove why it didn't work. Organizations have been brainwashed into accepting that it's important. Communication is talking. To be successful you need to do something, for heaven's sake!
Have you ever asked yourself why so many communications are "top down?" The answer is simple:
because they are all about control.
My guess is that a huge majority of meetings have far less to do with co-ordination or co-operation than they have to do with the boss staying in control and knowing what everyone else is doing. If you tell someone to achieve a result and let him or her alone to get on with it, you have to trust that person. If you set up a team, and convene regular "progress meetings," you can give the illusion of delegation, while checking up on everyone in minute detail. In fact, you can probably so tie them up in "reporting back" and "sharing ideas" that you will, in effect, reduce them to obedient toilers while someone else (you) controls exactly what they do.
What are the
right
reasons to communicate? Simply these:
To explain, simply and clearly, exactly what you (the supervisor) expects: the objectives, the means to be used (if you know), the extent of initiative allowable, the time-scale, and the means for contacting you for help or guidance (but only if necessary).


To make clear your support for the person to whom you have given the task; and to bolster his or her confidence.


To listen to what they want to tell you. A teaspoonful of genuine and truthful bottom-up communication is worth more than a barrelful of the usual top-down kind. If you truly want to know what is going on, shut up and listen.


To respond to questions (only if asked) and give praise for a job well done at the end. If the job isn't well done, you either didn't train the person well enough before they started, gave the job to the wrong person, messed up the briefing (see point 1), or failed to listen. In just about every case, more than 50% of any blame (usually more like 90%) lies with you. If you feel the need to chew someone out, start with yourself.
Communication is a tool, just as team working is a tool. As the boss, it's your job to choose the right tools at the right time, and use them correctly. If people don't know what they are supposed to do, can't keep other (necessary) people informed when required (and only then), go off at a tangent, or just get plain muddled and lost,
you
are the one primarily at fault. And that's not a communication problem, it's a personal one.

Comments:
Your comments on teamwork are very compelling and insightful!
I've always explained to co-workers and clients that teamwork refers to a dynamic, whereas a team refers to a unit of organization. Teams are most appropriate when members are involved in interdependent tasks. Teamwork can be useful when one individual does not have all of the information needed to make a high quality decision or to solve a vexing problem. It can also be useful when a need exists to develop members of an organization.
robert edward cenek
www.cenekreport.com
trends and research in the world of work
Post a Comment
<< Home

This work is licensed under a
Creative Commons Attribution-NonCommercial-NoDerivs 2.5 License
.