In the dark? Here's how to get better information
The basic laws of office communication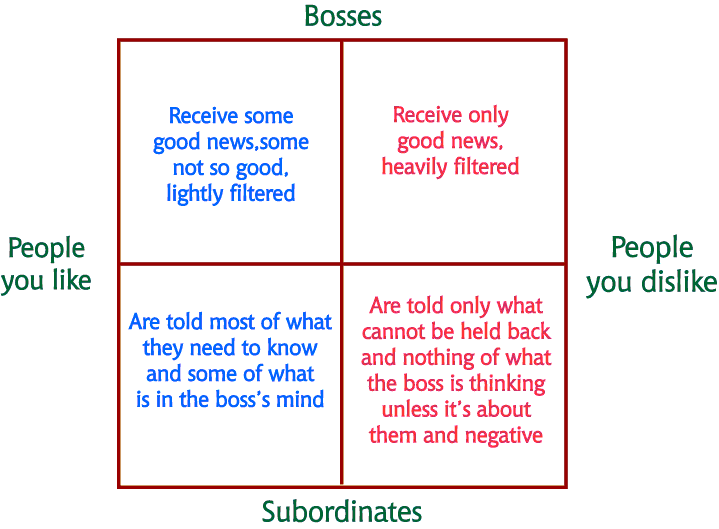 What's most often blamed for organizational problems? You guessed. It's poor communication. And what probably claims most attention from consultants, writers, gurus and trainers? Same answer. Yet it never appears to improve significantly. Since modern organizations began to emerge, people have been complaining about communication problems. All the training and consulting should have solved the problem long ago, but they haven't. Why should that be?
T
he answer lies in human nature: that endless source of difficulties for anyone wanting to make life tidy and predictable. Information in organizations flows upwards, downwards, and sideways according to four natural laws that are caused by some very human responses to the requirement to pass information along. Knowing these laws is essential if you want to save yourself endless trouble and frustration. Using them wisely will make you seem to be a born communicator. It's the combination of the three laws that decides how much information each person will get and how heavily filtered it will be.
First Law: Upward flows will contain only good news
Bad news doesn't move upwards in organizations easily. Typically, it doesn't flow upwards at all. People's immediate response to bad news is to bury it and hope it's never found. Bosses encourage this by their tendency to kill the messenger. Being the bearer of bad news to those above you in the hierarchy isn't good for your career or your job security.
In contrast, good news not only moves upwards easily, it's often enriched and added to along the way. If there isn't enough, more can be invented. Telling the boss what he or she wants to hear is commonplace, as is exaggerating every small success and forgetting all failures.
Second Law: Downward flows will be limited unless they are negative
In most organizations, information is only passed down the hierarchy on a "need to know" basis. Since bosses, especially those with large egos (that is most of them—and
all
Hamburger Managers) and a love of power (ditto), assume their subordinates need to know little, the downward flow of information is niggardly at best. Being "in the know" makes people feel important, so those who get information rarely feel much urge to pass it on.
"Need to know" may be important in communities of spies, but it's hard to see why it applies so widely in other organizations, apart from the reasons given above. There are likely to be few topics where secrecy is genuinely needed, and a great many where it harms progress. But humans are human and most of them love a good secret.
The exception to the limit on information flowing downwards is blame. Blame flows downwards at great speed, since those above want to make sure none of it stays with them. Indeed, it keeps flowing downward until it reaches those who can't manage to pass it on fast enough, or have no one to pass it to. There it sticks, even if they had nothing whatever to do with the original issue.
Third Law: Sideways flows will depend on trust and liking
Do people share information with their peers? Only if they like them. That means those closest together, physically and emotionally, share information most readily, but those further away on either count are left out. Where information has to cross departmental boundaries, it rarely makes it. Other departments are demonized, so based on being disliked and distrusted, they get next to nothing. Indeed, there's often a tacit agreement to block information to them, or even falsify it.
This law works in combination with the other two like this:
Bosses who are well-liked get more and better information from their subordinates. It's less heavily filtered and may even contain some of the bad news.
Disliked bosses get only unalloyed good news, much of it fabricated. All negative data is suppressed.
Trusted subordinates are told most of what they need to know, and are usually told rather more as well—including what the boss is still thinking about.
Disliked and distrusted subordinates are told as little as possible, even if they really need to know. The only exception is anything negative about them, which is relayed promptly and in great detail.
Fourth Law: Bad news travels farther and faster than good
It's human nature to pass on bad news quickly. You only have to watch the professional news media to realize that. Good news has to be very good to make the headlines. Bad news only has to be intriguing, odd-ball, or sexy.
The effect of this is a continual skewing of data towards the negative, especially over the short term. If a new initiative is launched, the quickest feedback will be the most extreme, whether positive or (especially) negative. That sometimes leads to organizations and people making bad judgments. Ideas are dropped on the basis of quick feedback that suggests problems. The good news takes its time to filter through and by then it's too late.
If you want to get good information, make yourself liked and trusted, whether you're in a boss or a subordinate relationship with the person who has the data. That's why organizations that foster distrust through macho, Hamburger Management, constant cost-cutting, and treating staff like expendable widgets quickly get what they deserve: a virtual information blackout.
If you want the complete and accurate picture, give it time. Don't get too despondent if the first news looks bleak. Don't get too excited if the next wave of reports filtering up the hierarchy sound extremely rosy. All news is filtered somehow. Sometimes the only way to get anything like the truth is to go and see for yourself.

Labels: corporate culture, leadership, short-termism, trust, working relationships