Tuesday, May 15, 2020
A few ideas to help you through a busy day
Monday, May 07, 2020
Playing the game of life
Wednesday, May 02, 2020
Whose life is it anyway?
Monday, April 30, 2020
What does it mean?
Monday, April 23, 2020
The problem of ambition
Thursday, April 19, 2020
Getting it wrong to get it right
Friday, March 23, 2020
Real courage is knowing when to let go
Thursday, March 22, 2020
Does it have to taste bad to do you good?
Tuesday, March 20, 2020
Myths of management
Monday, March 19, 2020
What causes stress?
It's not always what you that think it is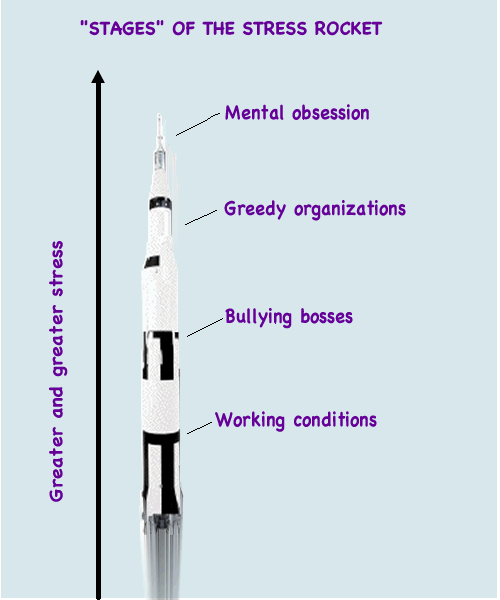 It's very easy to concentrate only on the visible and external causes of stress: things like long hours, bullying bosses, crazy profit expectations, and continually shortening deadlines. Are these causes of stress? Yes, indeed. Do they lead to serious problems? Yes again . . . but not in every case. One of the criticisms thrown against the whole "work/life balance" movement is that it over-dramatizes these aspects of life, sees universal problems where none exist, and ignores people who handle such stressors with ease. The critics have a point, but not the whole point. Maybe the answer to what really causes stress lies within us.
A
ccording to the critics of those who draw attention to stress at work, hard work never killed (or significantly harmed) anyone. Long hours are simply a fact of modern life, like idiot TV programs and fast food. Just as eating fast food on occasion does no harm, so working long hours isn't harmful either, unless taken to excess (I wonder what would count as "excessive" long hours. Maybe 20 hours per day, 7 days a week?). All these causes of workplace stress—long hours, bullying bosses, crazy profit expectations, and continually shortening deadlines —are dismissed either as problems capable of an easy solution or the whining of the chronically lazy.
I've deliberately stated these objections in extreme terms, since that is how they are often delivered. But when you cut out the inflated rhetoric, it must be admitted that the critics have a point. Most of us know of people who work very long hours, do so quite voluntarily, and thrive on it. There are folk for whom a terrifying deadline is a source of motivation, rather than dread. And there are assuredly people who set themselves seemingly impossible goals and expectations, yet still meet them—and experience excitement and joy as result, not exhaustion.
Is the answer to stress to find, and work on, only what you truly love? Well, maybe.
You cannot simply dismiss the evidence that there are more than a few people who see hard work as pleasant, and not at all stressful. Is this just another case of: "different strokes for different folks?" Is it simply a reflection of the difference—as so often claimed—between those who are doing what they love, and the rest of us who do what we must? Is the answer to stress to find, and work on, only what you truly love? Well, maybe. But my own experience suggests that only a small proportion of people even
know
what work thay might they truly love doing; and an even smaller proportion find themselves able to make this a source of sufficient income to serve as their sole, or even primary, employment.
Maybe the problem is that we so often take a rather simplified view of the phenomenon of workplace stress.
There are, it's quite clear, externally-applied stressors: compulsory long hours, insufficient resources, fear of job loss. These
do
cause stress in the majority of people, though a minority find them acceptable, or even stimulating. This parallels human activities like climbing mountains or parachuting. the majority of people find the very idea of frightening or negative, but a dedicated few enjoy them thoroughly. Still, I know of no organization that makes jumping out of an airplane and dangling on a piece of nylon fabric compulsory for everyone, not even the parachute corps. So pointing out that some people seem to enjoy what others find stressful is no argument in favor of imposing it on everyone.
There's also good evidence to suggest that most stress is produced in the mind, both by our reactions to events and by our attitudes and thoughts. I happen to be afraid of heights. I know my response is illogical, but I cannot stop myself from becoming physically sick and terrified if I stand near the edge of a precipice. The stress that I suffer is caused by my mind. I know this, because people standing around me are quite at ease, and even lean over the edge to get a better view.
Still, even this understanding is of little use if it merely applies to certain individuals. Are there general mental causes of stress: ones that apply to the majority of people? I believe that there are, and that they contribute at least as much to today's epidemic of workplace stress as the far more often blamed working conditions and crass bosses.
Here are some that I think are common enough to qualify as typical:
The obsession with being in control. I've noted several times in these postings that belief in your ability to control anything absolutely is a dangerous and stressful illusion. Yet many go much further. They seek to control almost every aspect of their work, even their life: future results, the actions of those around them, external events, even the thoughts, beliefs, and attitudes of customers and clients. Such folly is doomed to constant failure. That would be stressful enough. But what makes it still worse is that such people—and not a few organizations—don't just believe this kind of direct control is possible; they demand it. For them, it is the mark of success, as compulsory as turning up to work, or following legitimate orders from the hierarchy. It's bad enough to fail all the time. How much more stressful is it to feel that succeeding in this obsessive control is both possible and required? This production of permanent failure, frustration, and guilt is a major cause of stress, especially in otherwise successful people.



Linking satisfaction to specific, external circumstances. This is so common that most people don't even recognize it as abnormal. It expresses itself in statements like: "I'll know I've succeeded when I've [fill in the blank]." Or "My goal is to have [this status, these possessions, this level of income, this lifestyle]. Then I will be happy." Aside from the fact that no one can control the future, so even the hardest work may fail to produce the desired "goodies" due to events completely outside your control, most people have no proof at all that what they claim they are working for will make them happy, even if they get it. Most of these desires aren't even based on thorough, personal consideration of the likely costs, benefits, and alternatives. They're picked up from the media, friends, the fashion of the moment, and the continual activities of marketers and advertisers, whose job depends on maintaining everyone in a constant state of unfulfilled desire for still more things, however much they've alreadty got.



The illusion of continual growth. Very few things grow without limits. Nature doesn't contain any creatures that live for ever, grow to infinite size, continually learn to run faster the longer they live, or possess abilities that have no limits. Even the human capacity to learn, while "infinite" in most individual cases only because we typically use so little of it, has limits somewhere. Nevertheless, many people act on the assumption that as soon as you have something (wealth, power, status, possessions), the only natural course is to seek still more. Once again, marketing and advertising encourage this idiocy. If they didn't, they would have to face the reality that even people with three cars cannot drive more than one at a time, and someone with a lust for buying shoes equal to Imelda Marcos's still has only two feet. Never being satisfied is bound to produce stress over time, since you will be so tormented by the imagination of all that you still don't possess that you will never enjoy what you have.



Egotism, pure and simple. Very small children are supreme egotists. As their brains develop enough to form a conception of themselves as separate from others, they become obsessed with being the center of attention at all times. Happily, for most this is simply a phase of development, like sucking their thumb or repeating the same nonsense syllables for hours with no sign of being tired of them. It seems, though, that some people never grow out of the egotistical phase. Even as adults, they behave as if the whole universe revolves around them. Many of them become senior executives.

We are back to the stressful effects of seeking the impossible. The more egotistical your thoughts, the more every setback, problem, difficulty, harsh word, or simple piece of bad luck will feel as if it is personally directed at you. Where others may shrug and accept that things just didn't turn out as they hoped, you will be driven to seek out why you were treated so badly by events, or by others. Simple upset becomes translated into personal insult. A moment's frustration becomes hours of churning anger at the "unfairness" of it all.
Stress has many causes and demands an equal number of solutions. We should try to create more civilized workplaces and limit the external causes of stress wherever we can. But this will never be sufficient on its own. The internal causes of stress—obsession with control, seeking satisfaction in externals, the illusion of "necessary" growth, and personal egotism—must also be conquered before stress at work can become limited to obviously pathological cases.
Stress soars like a multi-stage rocket, with each stage (working conditions, bullying bosses, greedy organizations, and personal obsessions) driving it higher and higher. Until all the stages have been tackled, you will never be able to keep it down to earth.

Labels: burnout, civilized work, enjoying work, stress, work/life balance

Wednesday, March 14, 2020
What makes a company the best to work for . . . four times in a row?
Wednesday, February 28, 2020
The Critical Importance of NOT Doing Things
Monday, February 26, 2020
Are you having fun yet?
Friday, February 16, 2020
Workplace Karma
Tuesday, February 13, 2020
Start Practicing "Conscious Incompetence"
Friday, February 09, 2020
What's Stopping You? (Part 3)
Thursday, February 08, 2020
What's Stopping You? (Part 2)

This work is licensed under a
Creative Commons Attribution-NonCommercial-NoDerivs 2.5 License
.