When you're up to your ass in crocodiles, why not get out of the swamp?
Linking modern management and TV reality shows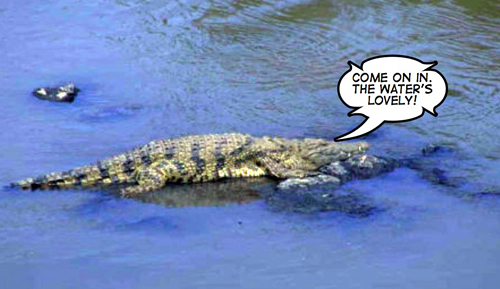 Have you noticed how narrow the gap is between Hamburger Management and some of the more extreme TV reality shows? Both encourage and reward all-out competition driven by raging self-interest. Both consist of people encouraged to behave in ways that are competitive, underhand, rude, and aggressive in contrived and highly stressful situations. Both see winning as the only acceptable outcome, regardless of what it takes to win. Can you survive competition like this? Is it even sensible to take part?
H
ow and when did it become entertainment to watch a rich guy with a seriously awful hairstyle fire people on camera? Is it just the ultimate fusion between sport and business: corporate life as a spectator event? Do people simply enjoy seeing previously successful people kicked in the teeth? To me, that's a symptom of an insane society. But while the nice people who write blogs are talking about co-operation, values-based leadership, and lifelong learning, the guys with the money are out there pushing the message that all's fair in love, war and business.
Thanks to the prevailing cult of macho, "winner takes all" management, only survival matters—with excellence, service, and ethics lost behind or out of sight. Worst of all, colleagues have become simply rivals in the game of who can avoid being thrown off the island by the others. Am I alone in wondering what kind of managers and leaders this is breeding? Do we want to live in a world where the first, and most important, rule of corporate life is always to watch your back?
What can you do to cope with such a situation?
Ability and talent still count. Look at American Idol (okay, I know it's not a reality show, but it provides the best example of what I'm talking about). It's not always the winner who has the best subsequent career. Several losers have done as well or better. The one who wins the short-term contest doesn't always win over the longer haul.


Dealing with others fairly can be more important that it seems. Getting to the top by climbing over the bodies of others makes plenty of enemies. In the competitive game, winners can turn into losers at any time. When they do—and nearly all will at some time or another—it helps not to have too many people around who have been waiting their chance for revenge. The guys you kicked on the way up will probably love to kick you even harder on your way down.


Friends are always good to have. Life is a pretty uncertain business. There are plenty of times when a piece of information, a friendly warning, a helping hand, or just someone to talk to openly can make all the difference. Jerks and assholes don't have friends, only hangers-on looking for their own chances to claw their way up. If you don't trust anyone, you won't find anyone is willing to trust you. That means you'll have to pay—one way or another—for every piece of information or moment of support. And it will have to be cash on the nail, since everyone will have learned not to trust promises (at least, not twice).


Choose your currency. There are two currencies in business. One is patronage: the ability to do someone a favor, advance their career, or appoint them to a plum job. That's the currency that comes from having power. The other currency is being liked. It has nothing to do with power and everything to do with the kind of person that you are. The currency of patronage is limited. There's only so much available, and the guys at the top grab most of it. The currency of being liked is available to everyone. It won't win you direct power, or even promotion in every case, but it will protect you from many of the crocodiles. You have to be a real bastard to screw over a popular person. And you have to be really lucky to get away with it without others ganging up on you as a result.


Compete only for what is truly worthwhile and lasting. Power, status, riches, fame. All are, I'm sure, great to have. But all of them take some hanging on to. All come with plenty of stress and fear attached. For many people, that blissful moment on the winner's rostrum—that 15 minutes of fame—is all they will ever receive. It will be followed by years of struggle to get back to that point, coupled with misery, frustration, and anger. But friendship, peace of mind, happiness, and contentment can last for many years—maybe a whole lifetime.
There's an old proverb (I think it is Spanish) that goes like this: "Take what you want," says God, "then pay for it."
Before you start wrestling with the crocodiles, be very sure what it is that you want and are willing to pay for. Coming out on top may cost you more than you bargained for. Managing to wade out of the swamp—even if the cost is giving up your heedless dreams of making it into the big league—could turn out to be a great bargain in the context of your life as a whole.
If you're offered a place in some reality-show-type competition to rise to the top, remember to count the cost
before
you start. There may just be a very large and wily crocodile sitting somewhere on the bank, waiting for all the others to wear themselves out fighting, before he or she slides into the water and calmly demolishes the supposed winner. Reality shows may be fun to watch (though it's hard for me to imagine why), but I doubt that they're fun to take part in.

Labels: corporate culture, executives, Hamburger Management, thinking about management